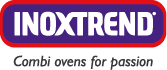 Inoxtrend represents the latest innovations for Combi Ovens.
With several registered patents like the XT Boxtor and XT Simcleaner it is easy to see why Inoxtrend is a great choice in any commercial kitchen.
Whether Cooking or baking, Banqueting, Restaurant or Snack Inoxtrend will always have the right solution for your kitchen.
XT Boxtor is a revolutionary new way to get heat in the chamber quicker, and therefore provide a saving on the energy consumption.
Check in XT Book to see how the XT Boxtor can save you energy or check it on youtube
Inoxtrend also provides 2 solutions for Self Service Counters. The Class 80 or Modul-System 65 are both modular solutions for any self service Canteen.
Hospitals, Universities or Staff Canteens - the solution is here.